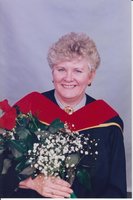 Carol Anne Salmon
Carol Anne Salmon
December 10, 1941 – August 10th, 2019
Born to James and Dorothy Vinoly December 10th, 1941. Married Cliff Salmon, June 28th, 1961. Three devoted children, Amber-Lee Zielke (Jay), Oriana Tierney (John) and Christopher (Amanda).
Resided in downtown Vancouver with 6 siblings, Carol being the youngest. Her mother passed away when Carol was just 6 years old. Cliff and Carol moved to Prince George in 1973 and she accepted Jesus Christ as her Lord and Savior in 1974 beginning a wonderful journey walking with Him. The family moved to Pitt Meadows in 1983 and Carol enrolled in Bible Study Fellowship then attended Trinity Western University working very hard to enhance her spiritual gift (Counsellor). She proudly received her MA degree in 1993 and began her counseling career with Cares Counseling in Abbotsford.
Stage 4 cancer was detected in 2018, and after 3 major surgeries, she began her final journey to her heavenly home. Carol faithfully shared her "Journey with Jesus" at every opportunity: At home, in church, in the counseling room, with her line-dancing class or with her art teacher. She leaves to lovingly remember her, Cliff and 10 grandchildren: Daniel (Shawn-Anne); Jonathan (Leah), James (Kelsey), Cody (Rachelle), Dustin; Emerson, Liam, Gabriella, Jordyn and Jose.
The family would like to thank the compassionate doctors, nurses and volunteer care-givers at ARH&CC, Christine Morrison Hospice in Mission, B.C and the staff and Volunteers at Holberg House Hospice in Abbotsford.
Memorial Service, Saturday, 2:00pm August 17th at Grace Church, 2087 McMillan Road, Abbotsford, B.C.
In lieu of Flowers please make a donation to Cares Counselling in honor of Carol.




.