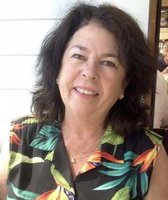 Ann Elvidge
In loving memory of Kathleen Ann Elvidge who passed away peacefully in the arms of her family on December 8th, 2019 in Maple Ridge, BC.
Ann was a beautiful wife, beloved mother and grandmother, a sister and friend forever. She is survived by her husband Tod, daughters Katie and Amy, darling grandchildren Heidi, John, Gwendolyn, Mackenzie and Fraser. Also, her sister Jenny (Stephen) Butterfield and many other family members.
Ann was born in Leigh On Sea, Essex, England on March 4th, 1951. She made many lasting friendships in England before coming to Canada in 1974. Her working life included banking, broadcasting and health administration. She lived in Vancouver, North Vancouver and Coquitlam before settling in Maple Ridge. She loved to travel and was a very active supporter of the Girl Guides of Canada.
Ann had been battling valiantly against a cancer which gradually took her away from us, and while it was heartbreaking to see her go, she is finally in a place of peace and will live in our hearts forever.
On behalf of her family we wish to extend heartfelt thanks to the dedicated people who helped on her final journey. In particular, Dr. Muhammad Zulfiqar and the staff at the BC Cancer Agency in Abbotsford as well as the staff and volunteers at McKenney Creek Hospice in Maple Ridge.
"You left us beautiful memories; your love is still our guide;
although we cannot see you, you're always at our side."
Donations in Ann's name could be made to the British Columbia Cancer Agency or to the Ridge Meadows Hospice Society.