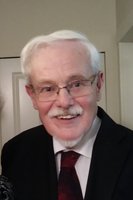 Allan McCurrie
August 8, 1945 to December 14, 2019
Allan was born in Vancouver General Hospital, the youngest of four children born to John and Florence McCurrie. He slipped peacefully away to be with his Lord and Saviour Jesus Christ on December 14, 2019 having put his faith in Jesus for salvation at the age of 11.
For 31 years he was a transit operator for BC Transit, and after retirement in 2004, drove a school bus for 8 years for First Student Bus Company. He and his wife Violet had many wonderful holidays together, the last of which was a 2-month visit to Sakeji Mission School in Zambia.
Allan was a gentleman, had a wonderful sense of humor, was active in his church fellowship, and was much loved by all who knew him best.
He is survived by his loving wife, Violet; his older brother John (Lucille) McCurrie; Violet's many siblings and their spouses; many cousins, nephews and nieces. Predeceased by his parents, brother Norman and wife Eileen, sister Joyce and husband Victor.
Viewing will be held on Friday, December 20th, 2019 from 7 - 9 pm at Garden Hill Funeral Home, 11765 224th Street, Maple Ridge.
Memorial service to be held at 3:00 pm on January 10th, 2020 at South Burnaby Gospel Hall, 6907 Elwell Street, Burnaby, BC
Garden Hill Funeral Home, Maple Ridge is in charge of arrangements and condolences can be made below.
In lieu of flowers, donations could be made if you so wish, to Mark and Pamela Ronald, Sakeji Mission School, c/o Gospel Perpetuating Foundation, 2025 West 42nd Avenue, Vancouver, BC V6M 2B5, in Allan's memory.