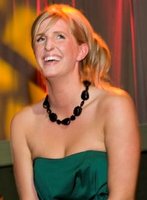 Carling Elizabeth Muir
Surrounded by love, our beautiful Carling Elizabeth Muir, peacefully passed away at 5:45 p.m. on November 15, 2020.
Carling inspired us all with her strength, determination and grace during her 14 year' battle with brain cancer.
Carling is survived by the love of her life Andrew Sturgeon, her parents Grant and Shelley Muir, her brother Parker Muir (Emma Bickerton), Aunty and Uncle Charlene Deptuck and Andrew Hall, Aunty Patricia Henderson, Grandmas Jan Deptuck, Elaine Cook and Ruth Muir, cousins Taylor and Kyle Hall, best friend Natalie Kostenko, Andrew's Mom Catherine Sturgeon, Andrew's sister and brother-in-law Leila and Keith Ellwood, niece and nephew Ethan and Evelyn Ellwood, and many more relatives and good friends.
Carling will forever be in our hearts and minds.
Written in the Sand by Aufie Zophy:
It is written in the sand
The purpose of our life
Millions of grains of sand

If the sea'd have erased it from the shore
The grains will have whispered it to the drops
And waves, the braking waves will sing
The purpose of our life

If the heat of day erased it from the surf
Evaporating mist 'll carry it to the clouds
Where they will paint it in amazing skies
The purpose of our life

The clouds will rain and
And diamond beads will ornament the rose
The rose's scent will tell it
The purpose of our life

But if we fail to find it
In the sand or song of waves
In the clouds or scent of roses
The purpose of our life

We may have to make it quiet
And look deep within our heart
Where it will be dancing all around
The purpose of our life.

If we do not find it in our hearts,
We may have to return to sand
It is written in the sand.
As a result of covid a celebration of Carling's life will be held at a later date