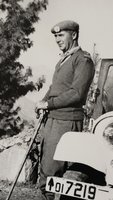 Ian Smith
May 13, 1921 – Nov. 14, 2020
Ian Smith P.Eng. of Maple Ridge, BC died at Ridge Meadows Hospital after a short illness at the age of 99 yrs. Predeceased by his wife of sixty-five years Muriel (2009), sister Margaret, mother Helen, and father Peter Smith.
Survived by children Michael (Ottawa), Bruce (Abbotsford, BC), Rod (Susan) (Misson, BC), Chris (Gary) and Pat (Candy) (Maple Ridge, BC). Also survived by grand-children Nicole, Julia, Stephen, Tristan, Ainsley and Alex, and great grandchildren Lucas, Katherine, Sean and Charlotte.
Born in Coleman, Alberta in 1921 to Scottish immigrant parents, Ian grew up in the Crowsnest Pass region of southwestern Alberta before leaving for Edmonton and the University of Alberta in 1939. In his university days he spent two summers working underground as a coal miner, and one as a surveyor during construction of the airport at Ft. St. John, BC. Upon graduation from the U of A in 1943 with a degree in civil engineering, he, and the rest of his graduating class joined the Royal Canadian Engineers. Ian served in many capacities in the Canadian Army from '43 until 1970, retiring as a major, with postings in Canada, Europe and Kashmir, where he served as a United Nations observer in the early 1960's. Upon retirement he worked for many years in private practice as a civil engineer in the Fraser Valley of British Columbia.
Ian was a man of many interests. Widely read, in his youth he was an avid fly fisherman, athlete, and hunter. At home he was a good cook, carpenter, gardener, wine maker and all round handy man. He enjoyed curling for many years, played a good hand of bridge, and was a lifelong baseball fan, especially of the Montreal Expos, and then the Toronto Blue Jays. He loved a good mystery novel, liked Scotch and Chopin, appreciated good music in general, whether classical, popular or jazz. He had a fine voice and in his younger years could play the piano and loved to sing.
Ian was an interesting and memorable man and he will be greatly missed.

Due to the current medical crisis there will be no memorial service at this time.