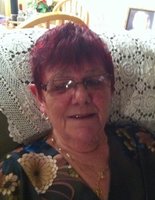 Genevieve Elizabeth Thurber
Genevieve Thurber 83 years old ,
May 16, 1937 - December 3, 2020.

It is with heavy hearts we announce the passing our loving mother. You fought a fearless fight against lung cancer then Covid found its way into our home only to take you away from us all.
survived by her children, Reginald Thurber(son), James Thurber(son),daughter Johanne Foulds husband Jim Foulds.
Grandchildren, Ryan Kilroy, Danielle McFarlane, Lucas Thurber, Emmily Thurber.
Great grand children,Jasmine Rose Kilroy/Purser, Nathan Russell Kilroy, Evan James McFarlane and Sylvia Elizabeth McFarlane.
all so your many sisters and brother, and numerous friends

You will always be close in all our hearts ,you loved each of us unconditionally with your whole heart and soul. Today god received a very special angle your loved forever

We will remember her forever.