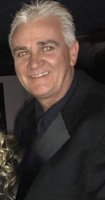 Steven Barry Southall
Southall, Steven Barry (Steve) February 9, 1968 – January 7, 2021
Steve passed away peacefully on January 7 th , 2021 after a long battle with cancer. He was a strong fighter right until the end. He passed with his wife and daughter Summer by his side.

Steve was born in Melbourne, Australia and moved to Canada in 1990. He will always be remembered as a talented and creative builder and carpenter. He loved to help people build and renovate their homes to make them beautiful, you can find his work all over homes throughout the lower mainland and he always had more than one project on the go. Steve was a devoted, loving father and husband who was so loved by his four daughters and wife. Steve had a gift of being able to make friends everywhere he went, he loved to make people laugh. He liked being outdoors dirt biking, boating and having a beer with his friends. Steve was an employee of the Burnaby School Board for 28 years – starting out as a Carpenter and then the Carpentry Foreman. He has many fond memories at the Burnaby School Board. Steve made an impact on so many people's lives and will be so greatly missed. Steve is survived by his loving wife Tamara, daughters Mya, Summer, Charlee and Stevie. His family in Australia, father Barry (Barb), mother Elizabeth (Dennis), sister Karen, sister Debra (Colin), brother Ray (Donna) and many nieces and nephews. Steve's memory will live on through his daughters, that he loved so much – gone but never forgotten. We will live with the love he left behind.
A Celebration of life will be held at a later date due to covid restrictions.