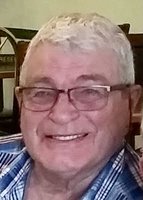 Rex Arthur Kenneth Gallard
Our lovely father Rex Gallard passed away peacefully at the age of 84 on Jan 22, 2021.
Rex was born on June 6, 1936 in the county of Berks, England.
He is survived by his devoted partner Diane, Brothers Dave & Mark (Erin) and Sisters Pam (Ron) & Judy (Herman), the mother of his four children, Joanne, his children, Michelle (Paul), Kellie (Mark), Susan and William (Manon), Grandchildren Chelsey (Jeremy), Colin (Sophie), Cody and Tristan, Great Grandchildren, Katie, Claire and Jesse, as well as many nieces and nephews.
He is predeceased by his daughter Deanna.
Rex's Faith was his cornerstone and the love he showed for his family.
His sense of humor and kind hearted ways will truly be missed by all who knew him,
Love & Squiggles

Donations to a charity of your choice in lieu of flowers.