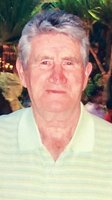 Patrick Forrestal
PATRICK FORRESTAL
died unexpectedly Feb. 25 2021 at the age of 85

Pat was born June,17 1935 in county Wexford, Ireland to John and Mary Forrestal (nee Farrell), he was the second youngest of 8 siblings. Pat spent his young days in school and working on the family farm, and as he got a bit older spent time working on his grandmother's farm close by. At the age 21, he left Ireland with his younger brother, Nick and cousin, Martin, to come to Vancouver, Canada where he easily found work in the mines and later went onto a career in the logging industry where he remained until retiring in 1997. Pat was not shy to hard work and found success wherever he toiled.

Pat was a family man, through and through, and truly enjoyed spending time with both his immediate and extended family whenever he could. Often, you could find Pat dancing at the Legion, on the pitch, meeting up with friends for a pint, and always outside for his long daily walks. Many who knew Pat described him as kind, friendly, and extremely generous; always the first to offer a helping hand. He laughed easily and was always ready to chat with anyone he knew or met.
Pat was a loving husband, father, step-father and grandfather. He will be deeply missed by his family, friends and all who knew him.

Pat is survived by his second wife Lisbeth (Libby) Forrestal (nee Mercer); his daughter Catherine Forrestal, son Michael Forrestal (Natalie), step family Terry Smallwood (Clarisa), Larry Smallwood (Shelley), Wendy Hines (Jerry), Janet Wikene (Christian). step grandchildren; Mathew Smallwood, Gregory Smallwood, Spencer Smallwood, Brooke Smallwood, Kenzie Wikene, Chase Wikene.
Sisters Breda Smyth(Len) of London, England and Mary Brophy (Mike) of Queensland, Australia and Several Cousins, Nieces and Nephews.
Pre deceased by his brothers; John, Tom, and Nick Forrestal, his sisters; Liz Martin, Josie Ahern, Cathy Dent. Step son Rick Smallwood.

A Celebration of life will be held on Saturday Mar. 6 2021
11:00am in Maple Ridge at Garden Hill Funeral Home
Due to Covid protocols there will be a link sent out on the day of service to be viewed online.
The link will be posted here when it's available. http://www.livememorialservices.com/Home/ServiceDetail/11391