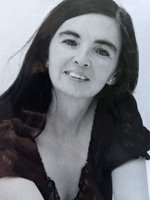 Cristina "Kitty" Schwarz

Cristina Astiazarán de Schwarz "Kitty"
January 28th, 1946 - April 11th, 2021
As we observe at each other
carving the experience
of the quiet sound of your soul.
Thanking the flowers
and the many moments
we pray and witness
the closeness of each moment.
The truth of your simplicity
and the softness we witness each time
with your beautiful presence
gives birth to a smile for the entire soul,
and pours the sweetest glow in our hearts.
---
On April 11, 2021 we lost Cristina Schwarz, a devoted and extraordinary wife, mother, grandmother, sister and friend. She, at age 75, has now joined her beloved husband Mario in a better place.
Born in Mexico City and lived almost her entire life there; she spent her senior years in New Westminster, Canada in the company of her sons Bill and Carlos, daughters-in-law Claudia and Denise and her grandchildren Vanessa, Rebecca and Stephan.
Cristina was a keen sketch artist, ballet dancer, cook, lover of the outdoors, and was deeply committed to her family and grandchildren.
Cristina also started playing the accordion that was taught by her husband in her early 20's, and then started playing professionally. She was a detail-oriented person always looking to inspire others with her noble attitude and kind words.
She will be truly missed by her family in Canada and many relatives and friends across Mexico.