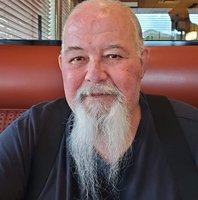 James Douglas "Jim" Pasquill
It is with a heavy heart I announce the passing of James (Jim) Douglas Pasquill, on 21 April 2021, at the age of 64. He will be missed beyond measure by the love of his life Christine, daughter Georgia, son in law Adam, grandson Bear, niece Amanda, and nephew Stephen. Predeceased by his mother Elizabeth (nee Dunsmore), father Thomas, and brother Thomas (Ted).

Jim was born in Neepawa, Manitoba and moved to the West Coast as a young man in his 20's. He enjoyed music, cooking, good food, old radio plays (especially Sherlock Holmes), fishing, woodworking, carving, his guitar, gardening, genealogy, and had a wonderful sense of humour. He was also a great historian.

Having met his soulmate Christine in his mid 50's, they packed a lot of love and laughter in 9 years, and most memories are of laughing together and having fun. Theirs was a true love story. Jim was a huge character, the most loving caring man, devoted to his wife Christine, his family and had an amazing bond with grandson Bear. He will be greatly missed.

Jim was a skilled carpenter, going on to study engineering as a younger man and has worked for School District 42 Maple Ridge and Pitt Meadows since 2002, where he was a key member of the facilities team and was Maintenance Manager for the district. Jim's dedication and vast experience in the trades was a tremendous asset. Loved and respected by many in the district.

James Douglas Pasquill, 24 July 1956 - 21 April 2021
He lived for those he loved, and those he loved remember.
Beloved husband of Christine. Loved always. We'll meet again xxxxx