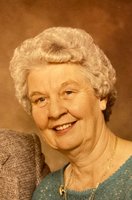 Kaye Isherwood
Kathleen (Kaye) Frances Isherwood (nee Clent) died peacefully in her sleep on May 10th at the age of 92. Born Nov. 28, 1928 in Calgary as the eldest child to parents Edward Clent and Frances Piermentier.
She grew up in Calgary until the family relocated to Salmon Arm, Webster's Corners then eventually settling in Haney, where she graduated valedictorian from Maple Ridge High School in 1946. She worked for BCTel as an operator for many years. In 1949 she married fellow Haney guy John (Jack) Isherwood and raised their 5 sons while running Isherwood Construction. Kaye was tireless in her cooking, baking, sewing & gardening, which she passed on to her family. She was a mother to five but a mom to many as her boys were always bringing home other mouths to feed. Never idle, she loved to knit & crochet, stamp-collecting, playing cards or visiting with friends. She enjoyed curling and golfing. In her down time she loved to swim, passing on her love of water onto many of her family members. She was a faithful patron of St. George's Anglican Church and a member of the Womens' Auxiliary. Retiring in Summerland for 20 years she and Jack before while winters were spent as snowbirds in Indio and Yuma. Kaye & Jack traveled extensively seeing most of the world and enjoyed many trips to England and Hawaii which were their favorites. Jack & Kaye had many wonderful years together and celebrated their '71st' Anniversary this past fall.
Predeceased by her son Gary, and her two brothers Jim & Gord. Kaye lives on in the memory of her sons: Rick (Lori), Brent, Don, Blair (Donna) and grandchildren Brianne (Ron) Bakira, Rob (Andrea) Isherwood, Danica (Chris) Isherwood/Potter, Jordan Isherwood, Chelsey (John) Hallam, Janel (Dennis)Isherwood/Malloy, Blaine (Sara) Isherwood, Angela Rowe and 12 great-grandchildren with another on the way, many nieces and nephews and friends.
The family would like to thank the staff at Baillie House for the care and support given to Kaye during her last few years. In lieu of flowers please donate in her memory to BC Children's Hospital.
A private family gathering will be held when COVID restrictions allow. Wherever you are today please raise a glass of Scotch to remember our Mom, Nana and friend.