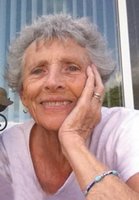 Teresa Tomlinson
It is with profound sadness that we announce the passing of our beloved Mom, Teresa (Shirley) Tomlinson (nee Way) on May 18th, 2021 at the age of 87. Teresa was predeceased by her husband, Lowell James Tomlinson in 1962 and leaves behind her 4 children and 10 grandchildren, Micheal Tomlinson (Susan) with Natasha, Amber and Stanley, Judy Windsor with Christie and Daniel, Cindy Lou Akins with Tiffany, Caitlan and Brianna, and Kelly Tomlinson (Jade) with Paige and Maggie, along with 4 great grandchildren and one great, great grandchild. She is survived by her 2 treasured sisters, Elsie McKenzie and Dorothy Kenworthy.
Born in Regina, SK on April 20, 1934, she moved with her family in 1943 to Haney, BC. After marrying she spent 10 years in remote logging camps on Vancouver Island and up the coast, returning to raise her family and live the rest of her life. She travelled and spent time with family through Europe, England, across Canada and her favorite hot spots, Hawaii and Mexico.
Family was the most important thing to Mom. She was dedicated to her children. As a young widowed mother, she ensured we didn't go without and that our milestones were celebrated in special ways. She shined with her creative birthday cakes, homemade clothes and Halloween costumes. There was homemade bread, her famous apple pies, pickles and jam, even root beer. We were given rules, chores and expectations, but also the freedom to explore, as long as we were home when the lights came on. We couldn't have asked for a better childhood. As time passed, Mom was always available to share her special ways with grandchildren – collecting shells and rocks, making crafts and having tea parties. There was a lot of tea…because anyone who knows our Mom well, knows, 'Its all about the tea'.
Mom adored her roses, and loved to watch the birds and all creatures. She will be remembered for her willingness to play, be silly, dress up and be there for anyone in need. And she made people laugh. Mom symbolized home with love, caring, patience, discipline, humour, responsibility and most of all, strength. She was our champion and our biggest supporter. She was very much loved and she will be missed every day.
A graveside service will be held on Friday, June 18th at 2 pm at the Maple Ridge Cemetery. When restrictions permit, a Celebration of Life will take place. In the meantime, while enjoying tea and cake, please remember our beautiful Mom.
In lieu of flowers, please consider performing an act of kindness, in Teresa's memory, to someone in need.