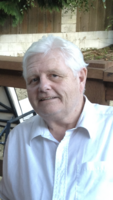 Steven Welch
Steven Welch, age 72, died in his home in Maple Ridge on June 29 th , 2021. Steve resided and attended
early school in North Burnaby and later graduated from Burnaby Central High School. He became a
machinist by trade. Steve was most proud of his work of many years in his commercial painting
business. He immigrated to Canada with his family from Manchester, England in 1955. As a youth Steve
was a Boy Scout, played soccer and rugby. Later, he road cycled and raced motorcycles at Westwood
with his father as his mechanic. After graduation he travelled to Europe and North Africa.
Steve was a member of The Church of Jesus Christ of Latter-day Saints.
Steve is survived by his loving mom, Irene Welch. His brother John (Jane), Aldergrove, sister
Susan(Doug) Sandner, Christina Lake, and sister Jane (Bill) Connor , Spruce Grove, Ata. He was Uncle
Steve to 21 nieces, nephews and greats. He will be remembered for his smile, sense of humour and the
love for his family. He was preceded in death by his father, Jack in 1992.
Funeral services will take place on Thursday, July 22nd , 2021 at 11:30 am at:
Garden Hill Funeral Home
11765 – 224th Maple Ridge, B.C.
A lunch will be served.