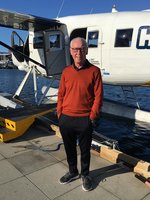 James McGregor
After a short but courageous battle with ALS, it is with a heavy heart that we announce the passing of James McGregor (June 11, 1939- July 5, 2021).
Jim was born in Kirkcaldy, Scotland and immigrated to Canada with his wife, Eleanor, and two children, Gavin and Laura, in 1969. He retired from Fortis BC after 35 years of service. After retirement he settled in Maple Ridge. Jim was known for always having loud Scottish music playing while pottering about the garage wondering what to build next.
He will be sadly missed by many friends and good neighbours. He leaves behind his loving wife of 61 years, Eleanor, son Gavin (Nadine), their children, Nikolas and Lexi, daughter, Laura and Brad, and their children, Caitlin and Cameron.
In lieu of flowers, please consider a donation to ALS Society of BC. On behalf of the McGregor family, we would like to thank all the staff of 3 west at Ridge Meadows Hospital. Also the Fraser Health Palliative home care support team.
The family would like to extend an invitation for a celebration of Jim's life on Saturday July 24 from 1 to 3pm at #1 13887 Docksteader Loop Maple Ridge.