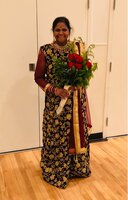 Mutamma Mutamma
Funeral service was held Saturday, November 27, 2021 at Garden Hill Funeral Home.
M -is for the million things she did for me
O -is that she is only growing old
T -is for the tears she shed for me
H- is for her heart of purest gold
E-is for the eyes that love like shinning
R- is for the right she always is
Put them all together they spell MOTHER
The word that means the whole world to me
Mutamma is an optimistic, confident, flexible, humble, compassionate, and family oriented human being. She is charismatic yet still authoritative when needed. She is fashionable and is a social butterfly. She brings in joy wherever she is and her positive energy is always felt. Everyone is her kid, no one is above or below, this is who Mutamma is.