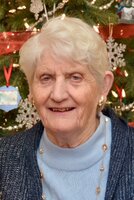 Lenora Louise Vakenti
Lenora Louise Vakenti (nee Marshall)
1937 – 2021
Lenora passed away December 19, 2021 after suffering a stroke. Teaching was her gift. After retiring from the Coquitlam district in 2000, she had the opportunity to teach an additional 2 years in China.
A woman of strong Christian faith, she lead bible-study to the ladies of the Maple Ridge Alliance Church.
Lenora will be missed by many family and friends, especially sons Rob (Erin) and Christian (Katie); 3 grand children and 4 great-grandchildren.
Hers was a life well lived. Celebration of life to be arranged at a later date.