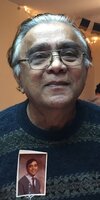 Edward St. Elmo Lall
It is with great sadness that the family of Edward Lall announce his passing on January 22, 2022 in Pitt Meadows, BC. Ed was born in Chaguanas, Trinidad, on February 1, 1933.
Predeceased by his first wife Sheila, he found love again several years later.
Survived by his current wife May, daughter Cassandra and her husband Frederic, sons Stephen with his wife Rebecca and Gregory and grandchildren Spencer and Bradley.
He moved to Canada in 1957 and joined the RCAF and moved across the country until finally settling in the Vancouver Lower Mainland in 1965. After graduating from UBC he left the armed forces to become an elementary school teacher and retired from teaching in 1990.
He was involved with clubs including the Cosmos Club and Chinese Club and kept active playing cricket and soccer in his younger years then dragon boat racing in his middle years. Through it all he had an enduring enthusiasm for cars – rebuilding them to resell then, as his eyesight failed, simply going to Show and Shines in the area. After one visit to the Philippines with May, he found a new place to love and they enjoyed many visits there over the years.
Prayers will be said at 5:00 p.m. Thursday January 27 at St Luke's in Maple Ridge.
Funeral Mass will be held 11:00 a.m. Friday January 28 with viewing from 10:00-10:45 also at St Luke's.
In lieu of flowers please consider a donation to the TAVI Clinic at the Royal Columbian Hospital 2 South Rm 241