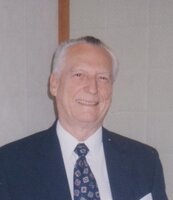 Fernand George Fauteux
It is with great sadness and a heavy heart that we announce the passing of our Father, Joseph George, Fernand, Fauteux. Born February 18th 1927, in Prairie River Saskatchewan. (1927-2022)Dad passed from this earth on January 29th, 2022, in Maple Ridge, BC, with dignity, grace and serenity; gained through a lifetime of faith and devotion to the Roman Catholic Church.
Predeceased in 2018 by his wife Beatrice (Skinner) (65 years) we take comfort knowing that his final days were peaceful and surrounded by family.
Survived by his 7 children, Therese (Dave), Dan (Joni), Gloria (Wim), Carol (Andy), Mark (Allison), Jeanne (Greg) Marilyn (Andy). Loving grandfather to, Christie, Jonathon, Christopher, Matthew, Brandon, Shane, Chase, Shanon, Lisa, Elaina, Lindsey, Sarah, Desiree, Derek, Andrew and Cole. Dad was also a loving great-grandpa to Corey, Brendon, Samuel, Nicolas, Finnegan, Linden, Blakely, Harlow, Jack, Olive, Declan, Maeve, Alexander, Aras, Isla, Mia and great, great-grandfather to Elliott.
Vern was a hardworking Father of 7 kids and a devoted husband, of 65 years, to Bea. He lived in Flin Flon, Manitoba up to 14 years of age and moved to Vancouver, and lived at the Cobalt Hotel, until they found a home on 2nd Ave. It was there that he met the love of his life, Beatrice, our mom. They married in 1952.
Dad worked at the ship yards, placing the rivets in the ships as well as the Biscuit Factory, before securing a job at the Canadian National Railway; where he worked for the next 43 years. He retired in 1985 after winning the lotto and never looked back.
The love he extended to us all will be widely missed. He was born and raised a catholic and lived his life being a model father, husband, grand-father, great grand-father, great, great-grandfather, son, brother and friend. He shared great joy and faith, both in family life and in the church. He was our foundation and he will be greatly missed, by all.
Funeral Mass will be held at St. Patrick's Catholic Church, 22561- 121 Ave. Maple Ridge, BC
On February 9th, 2022 at 11:00 am. Interment following, at Maple Ridge Cemetery, 21404 Dewdney Trunk Rd.
Due to the current conditions, there will NOT be a Celebration of life, after the interment.