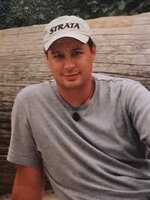 Lesley "Rex" Weidinger
It is with profound sadness that we announce the sudden passing of Rex (Lesley )Weidinger. Rex passed away unexpectedly in his home on January 26, 2022.
Rex was born in Toronto Ontario and grew up in Brampton and Bolton . Rex and his wife Joanne moved to British Columbia in 1995 when Rex was 24 to enjoy the great outdoors. They moved with only their belongings that they could fit into his Jetta.
Over the years they built their life and family together.
Rex was always quick to offer help to others. He loved football, golf, classic books, animals, anything to do with the outdoors, and he loved constructing and carving. He had many stories that he would tell often, if you let him. He was always proud of the wonderful men his boys had become and he loved them very much.
He is predeceased by his mother Valeria and his father Lesley. He is survived by his wife Joanne , their two boys; Ben and Jack, his sister Gina, Jens, and his Uncle Joe and Aunt Rose He will be greatly missed by his friends and his large extended family including his brothers in law, sisters in law, many nieces , nephews, great nieces and great nephews and cousins back in Ontario.
Rex, your story was left unfinished but you will be loved always.
May you Rest in Peace.
Celebration of Life is to be held Friday, February 11, 2022 at 11:00am at Garden Hill Funeral Home, 11765 224th Street, Maple Ridge.
In Lieu of flowers the family has requested donations be made to the Canadian Diabetes Association.