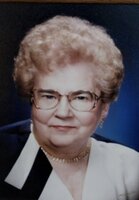 Shirley Florence Edna Ward
It is with sad hearts that we announce the passing of our mother, grandmother and great- grandmother, Shirley, on January 30, 2022 in Maple Ridge, at the age of 86. Shirley was born in Eugenia, Ontario on January 9, 1936. She was the sixth and youngest child of Fred Duckett and Hazel Porteous and was doted on by her older siblings.
In 1954 she married George Ward, and they resided in Eugenia, where two sons were born. A sense of adventure saw the young family "setting out west" in 1959, arriving in Chilliwack, where a daughter was born. When the family moved to Maple Ridge in 1970, Shirley became very involved with assisting George in their construction business. They loved travelling in their RV and always enjoyed a game of Euchre. Sadly George predeceased her in 1983 and she had to begin life on her own. She went back to school, obtained a home care aide certificate, and embarked on a career she enjoyed and was very good at. She really cared about the clients she worked with and often went above and beyond for them. She also became involved with square dancing with her very dear friend, Lorne Dixon, until health concerns forced her to give up that hobby. The family are very thankful to the cardiac team at St. Paul's hospital, who through some difficult surgery, gave her 19 more years of life. Her favourite pastime, however, was playing cards and she spent many happy hours playing crib at the Maple Ridge Legion.
Predeceased by husband George in 1983, and by sisters Leone, Mabel, Selena and Gladys
and brother Fred. Left to remember her are her son Lorne (Ann), son Terry (Cindy) and daughter Janice Fifield (Doug), grandchildren Leiane (Ryan), Cam (Jessie), Rob (Angela), Lisa (Brandon), Scott (Flora), Stephen (Krystal), David (Savannah), 14 great grandchildren, and cousin Rita Phillips (Jim).
In lieu of flowers please consider making a donation to the Maple Ridge Legion.
Mom, we hope they saved a seat for you at the Euchre table.