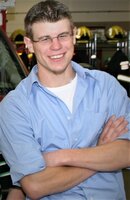 Timothy John Lilley
Lilley, Timothy John
August 18 th . 1985 - January 31 st . 2022
Tim passed away Monday, January 31 st . 2022 at Vancouver General Hospital, the result of a tragic fire in his West End Vancouver apartment. Beloved Son of Timothy (Cheryl) Lilley and Leslie (Brian) Carpenter. Loving Brother of Sean (Teila), Eric (Cassidy) and Sister Tess. Adored Grandson of Betty Lilley and a devoted, caring partner of Kelly Sharples. To his extended family, he will be remembered as a playful and fun-loving nephew, cousin, uncle and friend.
If you didn't really know Timmy, you missed out. His love was felt by those closest to him. He had this rare gift of finding his way into your heart. Timmy was just a big softy. His kindhearted manner could be felt by those nearest him. Ready to help anyone in need; He took pride in every job or task he set his sights on.

A lover of animals, especially his cats, he spent many years with his fur babies Sneakers and Sunny. Sadly though, Sunny has joined Timmy while Sneakers stayed behind to care for Kelly. We all like to think that Sunny didn't want Timmy to be alone in whatever was to come next. Tim was born and raised in Maple Ridge. A natural and gifted athlete he played many sports. He was a cross country runner, he played soccer, baseball and he swam. He competed in Duathlons and swam the "polar bear swim" every January 1 st . However, at 7 years old, he discovered a sport that would become engrained into his very soul – Hockey! He played the game. It didn't matter if it was on Ice, concrete or grass… he wanted to play. He has many cherished memories from his days playing for the Ridge Meadows Minor Hockey Association. A player, a referee, a spectator, it didn't matter to Tim, he loved every aspect of it.

Sadly, at 36 years, 5 months, 12 days and roughly 7 hours Timmy was forced from the game. He tried to battle an apartment fire the way he battled in Hockey. All in, never quit, fighting the best he could. If there is a heaven, he is there, smiling, content and happy to have been a part of this game called life. We Love You Timmy.
A private burial for Tim will be held by his immediate family at Maple Ridge Cemetery.
A celebration of Tim's life will be held on May 7 th ., 2022 (time and location will be updated on the Garden
Hill Funeral Chapel Website).
In lieu of flowers please donate in Timmy's honour to the CNIB:
https://cnib.donorportal.ca/Donation/Donation.aspx?F=1841&T=GENER&L=en-CA&G=345&NFP=1&region=bc