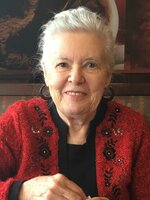 Joyce May Waugh
WAUGH, Joy "Jo" May (née Woodard,) aged 91, late of Pitt Meadows passed away Wednesday, February 9, 2022. Joy was born in Verdun, PQ to Herbert and Margaret Woodard in 1930.
Joy grew up in Montreal where she attended Montreal West High School. She was a talented dancer, working as a dance instructor for Arthur Murray dance schools in her 20s and showing off her moves in the nightclubs of Montreal where she "hoofed it" to many famous musicians such as Oscar Peterson and Louis Prima. She eventually took on a job as a key punch operator and met the love of her life, Alan Waugh whom she wed in 1974. They would later move to BC where they would both work as letter carriers for Canada Post until their retirement.
Even in retirement, she was an active member of her community, volunteering for many years at her Church, St. Columba's in Pitt Meadows, and entertaining the elderly with The Silvertones senior singers. She bore a compassionate heart and contributed to dozens of charities both local and international. She enjoyed traveling, whether by cruise ship or long road trips
Joy was predeceased by her parents, step-parents (Dorothy, Ross,) step-siblings (Lois, Cameron and Christina,) her brother John and her stepdaughter Karen. She is survived by her stepsons Martyn (Elaine,) Gary (Karen,) and nephews Scott (Tammy) and Christopher (Debbie.)
Her family wishes to thank the kind staff of Holyrood Manor in Maple Ridge for all their attention and service to Joy during her time in their care.
Funeral Services will be held at 2 PM Saturday, 19 February 2022 at St. Columba Anglican Church, 12109 Harris Road, Pitt Meadows, BC, with Reverend Georgina Harris officiating.
In lieu of flowers, please donate to Covent House Vancouver (CovenantHouseBC.org)