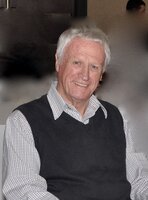 James Buchanan Jack
James Buchanan Jack
It is with great sadness we share the unexpected and sudden passing of James Jack on August 8, 2022. He was born in in Alloa, Scotland on December 26 th , 1936 and immigrated to Canada in the early 1970's settling first in Ontario and then in BC.
James is survived by his children Lindsey (husband Ralph) and James Michael, and their mother Yvonne, as well as grandchildren Molly (Lindsey and Ralph); and Danielle, Austin and Nicole (Michael). He will be dearly missed by Louisa, his loving partner of eight years who remained with him providing support and care until his passing. James also will be missed by several close friends in BC, his family in BC and Scotland, and many of Louisa's friends and family members.
James was a man of integrity, loyalty, and a dry wit. He worked hard and took his responsibilities seriously. Although he was a private person, he enjoyed spending time with those close to him. Particularly since his retirement from a successful career with the Royal Bank of Canada, he had been able to embrace the small enjoyments in life, including going out for breakfast ("to get coffee and a bun"), his love of music, and playing golf, cooking and travelling with Louisa.
James was a man who did not want a fuss. At his request there will be no funeral.