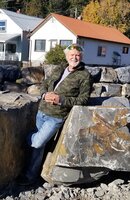 John Gary Dekker
John John Gary Dekker
1952-2022
It with great sadness and joy that we announce Gary's passing from death to life on August 8, 2022 in
Maple Ridge, BC. Gary Dekker was born on January 6, 1952 in Cranbrook, BC. He was the first born son
to Hank and Mary Dekker. He will be lovingly remembered by his wife of 45 years Marke, his 2 sons,
Garret (Susie) and Justin, his 3 grandsons Ezekiel, Benaiah, and Malachi; and his 4 siblings, Gerald, Dick,
Rita, Dan and their spouses and extended family. Gary had a love for hunting, fishing, BBQ(in&, having
coffee with friends, and sharing the love of Jesus with everyone he met.
A celebration of life will be held on Wednesday August 17, 2022 at 1 o'clock in the afternoon at Maple
Ridge Alliance Church at 20399 Dewdney Trunk Rd.