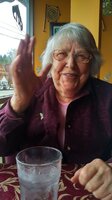 Gisela O'Byrne
Gisela O'Byrne (nee.Gnadeberg)
It is with deep sadness that the family of Gisela announce her passing on Sept. 14 2022 in Maple Ridge, BC. Gisela was born in Dünaburg Latvia, on January 17, 1936, grew up in Germany and moved to Canada in 1963, where she married Francis Daniel O'Byrne and raised her family.
Predeceased by….her mother and father, 3 sisters, 2 brothers and her daughter.
Survived by…. Two sisters, 4 sons and 5 grandchildren and many nieces and nephews and friends.
Quilting, gardening, flowers, family, history, photography, travelling and solving puzzles were just a few of Gisela's joys and passions. Her veggie garden was bountiful and flowerbeds verdant and beautiful. In hard times and good times she kept her family fed. Mom would patiently save for the better times and when able to would travel and see the historical places of the world, endlessly curious and excited to see what was around the next bend and find interesting ways to capture those times with her camera.
Over several decades hundreds upon hundreds of her quilts were sent all over the world as a part of St. Paul's Lutheran Church's, giving warmth and comfort to help those in need.
Even as her body slowly succumbed to the passage of time and movement became a struggle mom could be found either kneeling on the floor arranging patterns or at her sewing machine assembling the covers. 3 quilts a week was her goal but mom also loved complexity and patterns to the point where some of her creations contained over 1100 squares of various shapes and colors. They would amaze her friends and were always snuggly.
When walking become more and more difficult mom would still get up and go to the pool or the yoga studio, a fighter to the end. She loved aquafit and Yoga and most everyone that met her were drawn to mom's joy and spirit and loved her. She inspired many younger women in her Yoga class who had never met someone in their 80's with such determination, spirit and enthusiasm.
To our ray of sunshine, we love and miss you terribly.
Expressions of sympathy can be made on this page.
In lieu of flowers please consider giving a donation to Bouquets for Baba bouquetsforbaba@gmail.com
https://www.facebook.com/people/Bouquets-for-Baba/100069016780596/?sk=about
https://www.instagram.com/bouquetsforbaba/