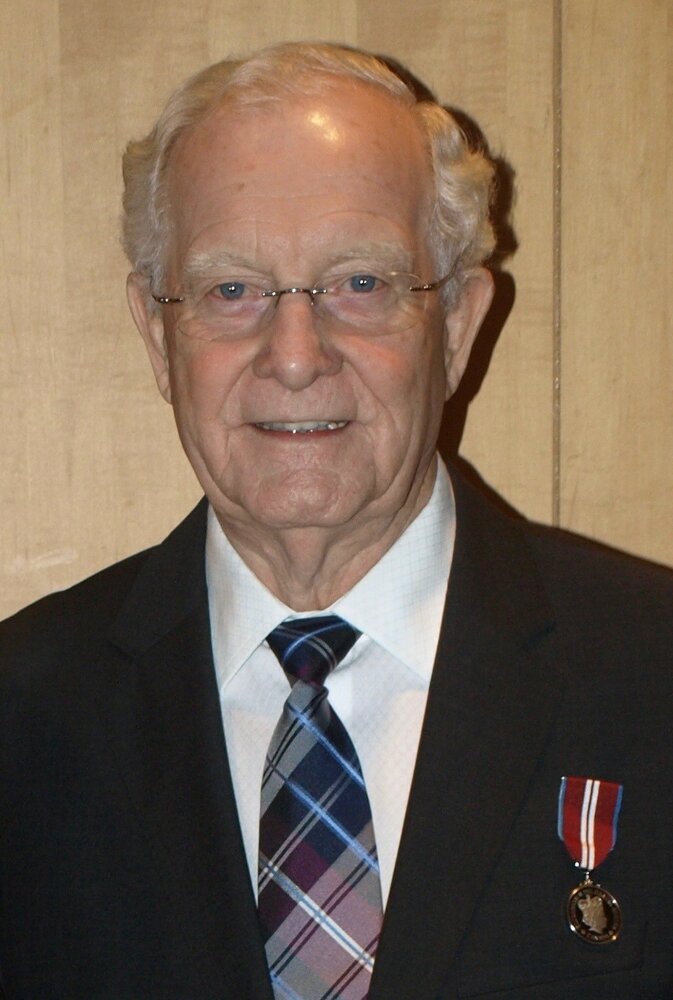 Obituary of Edward George Bradley
Please share a memory of Edward to include in a keepsake book for family and friends.
It is with great sadness that we announce the passing of Edward George Bradley on Saturday, October 7th at 1:30 pm at Ridge Meadows Hospital.
Eddie was born on the family farm near Rosetown, Saskatchewan on March 20, 1931. He was the second of seven children born to Norman & Allizy Bradley. They lived on the farm until Eddie was 10 years old. The family moved briefly to Clark's Crossing before settling in Saskatoon.
Eddie got saved at the age of 10 through the radio ministry of the Apostolic Church in Saskatoon and was sure of his calling from that time forward. He left school after completing grade 11. He then attended Prairie Apostolic Bible Institute in Saskatoon, where he met his sweetheart, Donna. They were married July 3, 1951. He and Donna were blessed with 6 children. Eddie deeply loved his family. They had many struggles as a family, including the death of their oldest daughter Kathie in 2009 due to cancer. But they were strong in their faith and always persevered.
Eddie was happiest when surrounded by his children, grandchildren and great-grandchildren. He loved nothing more than spending time with his family and friends, many of whom became adopted family. His great sense of humour and love for people drew people to him. He was very well respected in his family and in his community. In November 2012, Eddie was presented with the Queen Elizabeth II Diamond Jubilee Medal for his contributions to his community.
Along with his wife, Donna, he spent his life involved in missions and pastoral ministry. They pastored in various churches across Western Canada, moving to Maple Ridge in 1985. They also served as missionaries to Japan for five years early in their marriage. He served as the Missionary Council Chairman of ACOP for many years, during which time he & Donna visited almost every missionary and country where ACOP was involved.
Eddie was also very active in every local ministerial wherever he pastored. He served as president and past president of the Ridge Meadows Ministerial for many years. Years ago, he, along with other local pastors, was instrumental in bringing the local churches closer together, working together for a common purpose.
Although he stepped down as Senior Pastor in August 2005, Eddie continued to preach, counsel, mentor and lead weekly Bible studies up until his death. He fulfilled his calling until the day the Lord called him home. His love for his Saviour and his family permeated everything he did. His Godly example leaves a great legacy to his family and friends whom he loved dearly.
Eddie is predeceased by his parents, Norman & Allizy Bradley, sisters, Blanche, Dorothy and Marjorie and daughter, Kathie.
He leaves to mourn his beloved wife, Donna; children, Kevin, Colleen (Rod), Keith, Kim (Tage), Chandra (Tony), son-in-law Jim (Marcella); many grandchildren and great-grandchildren; brother, Cliff and sisters, Meta and Inez, along with many extended and adopted family and friends.
A Celebration of Life will be held on Saturday, November 11th at 1:30 pm at Maple Ridge Alliance Church, 20399 Dewdney Trunk Road. Parking is also available at Maple Ridge Community Church at 20450 Dewdney Trunk Road. The graveside service will be held on Saturday, November 11th at 10 a.m. at Maple Ridge Cemetery, 21404 Dewdney Trunk Road. In lieu of flowers, donations can be made to ACOP Missions.
"Well done, good and faithful servant."


Share Your Memory of
Edward
Contact
Ph: (604) 463-8161
Fx: 604-463-2929
E-Mail: info@gardenhill.ca​

Our Location
11765-224th St
Maple Ridge, BC
V2X 6A5